— inapparent
avec
Audrey Briot
chêne et 8 tricots, travail avec la machine «knithack»
approx. tricot, 50 x 120 cm / bois, 15 cm
oak, 8 knitting, thanks to "knithack" program
approx. knitting, 50 x 120 cm / wood, 15 cm
— 2015
Ce projet s'inscrit dans une volonté de croiser le design d'objet et le design textile en se penchant sur les processus de fabrications artisanaux et technologiques. Le bois de chêne est à la base de l'expérience. Il a influencé la fabrication de tricots, par le sons des multiples outils et machines enregistrées lors de la confection d'objets en bois. Ils sont sans valeur usuelle, mais témoignent d'un travail laborieux.
The main idea was to match technological techniques with hand working. Oak wood is the starting point of the project. sounds recorded by machines while processing pieces of wood has influenced the knitting making and its pattern. Wooden objects are witnesses of a long operation.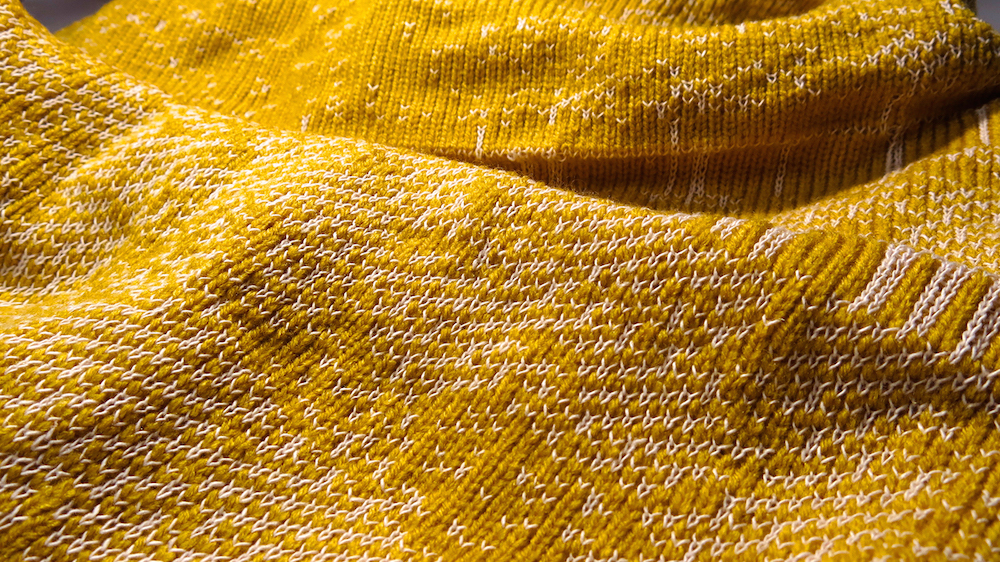 Ces enregistrements sont ensuite reconnus par un programme informatique qui se charge de les transformer en données binaires. Enfin, à l'aide d'un métier à tisser assisté par ordinateur, ces données sont récupérées pour former un motif, celui du son. L'ampleur et l'apparence du tricot atteste de la complexité du travail fourni sur le chêne et rend visible le son.

Réflexion sur la transformation de la matière dans l'industrie, le projet inapparent apporte un regard critique sur la production de masse et questionne la limite entre la manufacture et la production industrielle.

Recordings are then processed by a machine which turns them into datas that can be used to create a pattern with a special knitting machine, linked to a computer. We eventually obtained an image of sound which can be read directly on the piece of knitting.

this was a reflexion on material transformations, industrial processes and their limits.